Nov 18, 2020 | Holly Ralston
Any way you approach it, 2020 is a milestone year at the U.S. Space & Rocket Center. The countdown clock to the Center's 50th birthday celebration, slated to begin March 17, was already looking doubtful given the emerging COVID-19 outbreaks. Then, just the day before, on March 16, the Alabama Department of Public Health announced recommendations concerning public gatherings, food establishments and other retail venues and businesses, including no gatherings of more than 50 people. The rest, as they say, is history.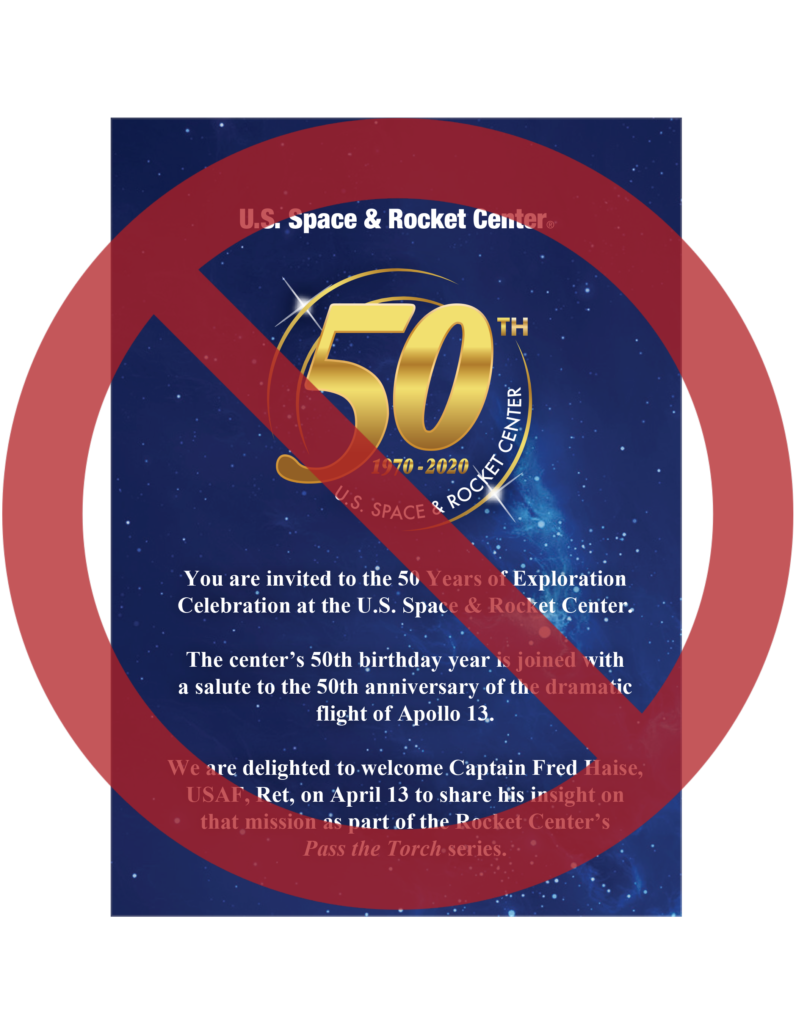 In June, the Center's CEO, Louie Ramirez, reported, "The USSRC has been directly impacted by the pandemic and is projected to lose $28 million in revenue this fiscal year and will operate at just 40 percent capacity in FY2021. To stay solvent, the USSRC needs help." Unfortunately, CARES Act funding was not realized for the Center so the Foundation launched an online funding campaign in late July. The result? More than 9,000 individuals, foundations and corporations from around the world provided support.
Therefore, the pandemic has also brought new and renewed appreciation for our community. While the Center remains in a line of credit, the online campaign means the Foundation may leverage and address the projects that make the Rocket Center so special to our community and world. It also means that the Center, representing those who strive to ensure that dreaming and doing never stop, will continue to be a place where potential is stirred ignited, and launched.
Reflecting on the last 50 years (since we couldn't officially do so in March!) the U.S. Space & Rocket Center was created to share the excitement of the future. What we have accomplished, yes, but more, what can we achieve? Without doubt, giving wings to U.S. Space Camp in 1982 was a tremendous boon. Ed Buckbee, the original director, was prompted to launch the program by an observation of renowned rocket scientist Wernher von Braun. If camps could be afforded for those who like sports and other such activities, thought von Braun, why not a camp to attract youngsters to space and exploration? Indeed, Space Camp represented STEM long before the acronym became part of our vernacular. The additions of Aviation Challenge, Robotics and most recently, U.S. Cyber Camp has since established the Rocket Center as a respected participant in supporting the nation's workforce pipeline.
Despite shutdowns and social distancing, the Rocket Center has continued to make friends and stretch forward. Among new programs and activities are the DIVR + and SeaTREK aquatics offerings to the general public; Science Never Stops online education modules; establishing a new, mutually beneficial relationship with the FBI toward supporting the cyber security workforce pipeline; the ongoing creation of a middle-school age U.S. Cyber Camp experience for 2021; and the continuing refurbishment of iconic rockets that remind us we stand on the shoulders of giants as we survey all there is to be explored and all there is to be shared.
A 50th birthday is a milestone that can be celebrated next year: A salute to what has been and come and a door to what is next. Simply, it's a great reason to have a party! But as for me, the center is a place of celebration every day. Nurturing "What if?" dreams and can-do spirit among those who will take us to worlds beyond us, as well as those who will explore the worlds within us, has taken on a renewed sense of importance. Mankind will face challenges. Encouraging the next generation to question, experiment and push themselves to new levels of understanding and go where no one has yet gone will help meet those challenges. Instilling a sense of wonder and gratitude for the world around us is equally important to our collective well-being. Space Camp and the Center's other educational programs exercise teamwork, leadership and observation skills that make today better because if our efforts are just right, we also develop friendships along the way.
With that in mind, this blog carries the important message of saying thank you for reading. Thank you for your time and interest. Would you like to learn more about the foundation and center? I'm here to help you celebrate every day discoveries, as well as the, "What if?" that takes us into the future.
You may contact [email protected] or call 256.721.5425
Comments Policy: We love comments and appreciate the time that readers spend to share ideas and give feedback. However, all comments are manually moderated and those deemed to be spam or solely promotional will be deleted.