Aug 10, 2021 | Holly Ralston
Finding new friends and new service
Sometimes you find kindred spirits in the most unusual places. This summer, Space Camp made a few new friends starting with an email, extending to a phone call, then several emails and phone calls before finally resolving in the restoration of a prized Aviation Challenge simulator.
The search to replace the 9D5 helo dunker used at the Aviation Challenge complex for water egress training meant reaching out through our network for suggestions. After all, no one on staff is an expert on sourcing a seasoned dunker. Tim Sheehy, AC alum and foundation board member, suggested starting with a reach to Survival Systems USA in Groton, Connecticut.
This is where the friend-making began and how a 9D5 helo dunker that saw years of service at Naval Air Station Patuxent River now rests at the Rocket Center for a new tour of duty. Survival Systems (take a look at the super cool things they create) was founded by a remarkable man by the name of Albert Bohemier. For 40 years, Bohemier has enhanced and preserved workers' lives through safety education, training technologies and applied research and development. This especially includes aircrew from around the world.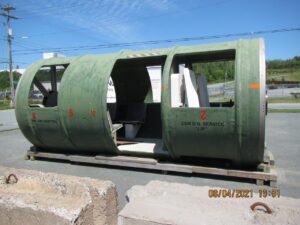 According to Bohemier, "The old 9D5 unit here was from Patuxent River in 2005 which we took back here after we installed the new METS (Modular Egress Training). The contract was turnkey and required us to remove everything old and replace with new."
This applied to several installations, noted Survival Systems USA president and chief executive officer Maria Hanna. Hanna fielded my initial inquiry and said the Groton facility had a number of the old dunkers some time ago.
But not now. However, she would do some checking.
She quietly went behind the scenes to contact Bohemier who now lives in Nova Scotia. Did he still have the one dunker that accompanied him to Canada?
Fast-forward through elation, calls to logistics professionals, some fund raising to cover shipping costs to mutual satisfaction all around and dunker delivery.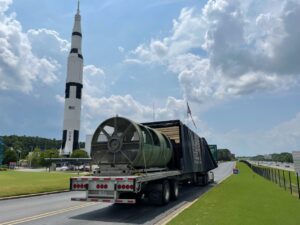 "So what you do is so important and vital in our new world of today and tomorrow as we pass this torch to you all and allow you to fire them up to go beyond into the new Space Frontier. Old geezers like me will soon be at high altitude floating as cosmic dust and watching this from space." Albert Bohemier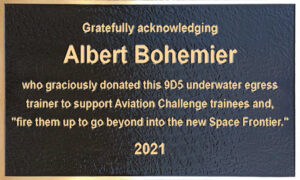 Comments Policy: We love comments and appreciate the time that readers spend to share ideas and give feedback. However, all comments are manually moderated and those deemed to be spam or solely promotional will be deleted.