Recent Check Presentations for Donations
The U.S. Space & Rocket Center Education Foundation is honored to received donations from these organizations and included in a check presentation to receive the donation. These donations help impact students in our internationally renowned educational programs, like Space Camp.
U.S. Space & Rocket Center CEO Dr. Kimberly Robinson is shown holding a $6,000 check designated for scholarships, which was presented by state speakers of the house from all over the U.S. Alabama Speaker of the House Mac McCutcheon, shown to her right, is a long-time supporter of the Center's educational programs and was the host for the national conference coordinated by the State Legislative Leaders Foundation.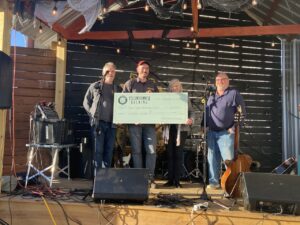 Yellowhammer Brewing held a check presentation ceremony as a part of their 11th anniversary celebration on October 16, 2021 to donate $20,000 to Space Camp scholarships. This continues a tradition of supporting not only Space Camp, but the Huntsville community for Yellowhammer Brewing. As a part of their anniversary they had live music and specials to celebrate with the public their standing as a prominent gathering place in Huntsville.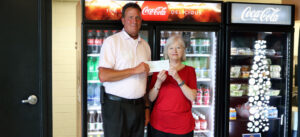 Mike Sokoll, of Huntsville Bottling Company, is shown presenting a $10,000 check to Brenda Carr, Executive Director of the U.S. Space & Rocket Center Education Foundation.  Lockheed Martin and National Space Club-Huntsville joined Coca–Cola in sponsoring the event.
Comments Policy: We love comments and appreciate the time that readers spend to share ideas and give feedback. However, all comments are manually moderated and those deemed to be spam or solely promotional will be deleted.