Yellowhammer Brewing Donates $20,000 to Space Camp Scholarships
Yellowhammer Brewing held a check presentation ceremony as a part of their 11th anniversary celebration on October 16, 2021 to donate $20,000 to Space Camp scholarships.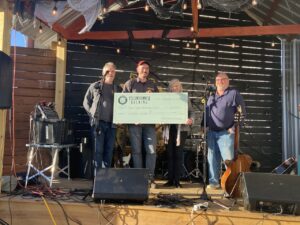 This continues a tradition of supporting not only Space Camp, but the Huntsville community for Yellowhammer Brewing. As a part of their anniversary they had live music and specials to celebrate with the public their standing as a prominent gathering place in Huntsville.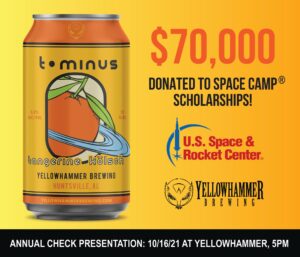 Yellowhammer Brewing has contributed over $70,000 to Space Camp scholarships to date, and their donations have given over 50 children the experience of Space Camp that may have otherwise not been able to attend. Find out more information about Yellowhammer Brewing at: https://www.yellowhammerbrewery.com/
Comments Policy: We love comments and appreciate the time that readers spend to share ideas and give feedback. However, all comments are manually moderated and those deemed to be spam or solely promotional will be deleted.