Mar 25, 2022 | Emily Pietryzk
Awarding of Space Camp Scholarships 2022
"You're going to Space Camp!" These are some of the best words that I have ever spoken. Announcements for the General Scholarship Program were made at the end of February to children whose household income falls under the financial need category. The general scholarship had 152 applications from 15 different countries and 31 different states. Of the 152 applications that were submitted, 55 scholarships were granted from over 32 donors. Wonderful words of gratitude and thankfulness came from not only the recipients of the scholarships, but also their entire family.
"Thank you so, so much for this amazing news! Our daughter is over the moon at this opportunity of a lifetime, and we are so grateful. Thank you from the bottom of our hearts!"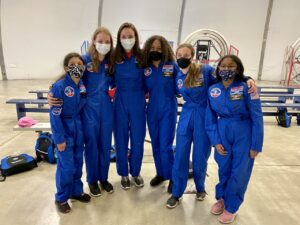 "Oh, wow! THANK YOU! This is exciting news. We are over the moon excited and grateful for this opportunity. Please extend our thanks to the Scholarship Committee for this scholarship for our daughter. We would love to have more information on how to thank our donor!"
"We cannot tell you the screams of excitement and tears that flowed when receiving your news of Congratulations for our son to receive this Space Camp Scholarship to cover his tuition AND Room & Board! In our household, we say "GOD IS SO GOOD!" This is an immense blessing for our family, and we are humbled that our son has been chosen as one of the scholarship recipients!! Thank you, thank you, thank you on behalf of not only him, but thank you from us as his parents, to help foster his curiosity of space exploration and having fun while doing so! We are extremely filled with gratitude."
"Our son will be so excited he received a full scholarship to Space Camp! I will definitely reach out to the donor to Thank them! This is a really exciting opportunity."
We look forward to another incredible year of inspiring the next generation of scientists, explorers, and astronauts. Thank you to all our incredible donors who not only help keep our mission alive, but also help make dreams come true.
Comments Policy: We love comments and appreciate the time that readers spend to share ideas and give feedback. However, all comments are manually moderated and those deemed to be spam or solely promotional will be deleted.